Undoubtly people out there were never get enough of Twilight. (Perhaps this is the third time im writing about it! Dayum!)


I bet you have seen this one.






Takipsilim is Filipino

remake

of Twilight. Based on this site,


"

Filipino fans of Stephenie Meyer's "Twilight" series will soon have another reason to celebrate after broadcasting giant ABS-CBN bagged the exclusive rights to make a local television series based on the vampire novels.


Initial reports said ABS-CBN paid $1 million with co-producer Ignite Media for the rights to the Twilight series.


The new series, tentatively titled "Takipsilim", will reunite the onscreen tandem of Rayver Cruz and Shaina Magdayao.


Taping for the series will start February of next year. Some parts of the series will be shot abroad and the other locations include Tagaytay, Bukidnon and Baguio. The series will be directed by Cathy Garcia-Molina.

"



Just imagine that this happens in our country. Malaysians craze for it and Media Prima willing to pay a huge sum of money to get the rights to reproduce it---in Malay language. For me, the suitable title is

The title has been chosen and finally...



Who's the Actor and Actress?



*i've decided to change their name into Malay ones---it's a Malay movie right?




Character:
Edward Cullen

Malay version:
Daud

Actor:
Rosyam Noor

Why I chose him:
Hero Malaya terakhir.
Rosyam Noor> any malay actors.
Mun aku ngkah Saiful Apek lak nang jadi cita lawak lak.
Character:
Isabella Swan

Malay version:
Nabella

Actress:
Fasha Sandha

Why I chose her
: I know its kinda bit controversial when I chose her but... I am the one who wrote this article. Its up to me

la

. Or Fauziah Nawi perhaps?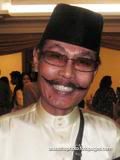 Character:
Charlie Swan

Malay version:
Syahri

Actor:
A. Galak

Why I chose him:
If you were a fan of Gerak Khas or Roda-Roda Kuala Lumpur, you would know him. Nobody fits the character as well as he does.

Character:

Carlisle Cullen

Malay Version:

Khalid

Actor:

Acapan

Why I choose him:

I have my own strong reasons.

1. Eventhough Kuching is the

'wettest'

city in Malaysia, it doesn't mean that Kuching

NEVER EXPERIENCE HOT SUNNY DAY

. Hot sunny day = ?. You know the answer don't you?

2. There's

NO EFFING WAY

you could find an actor that

WAY TOO BRIGHT

like Carlisle that being portraited in the original movie. Bright? I think Iused the wrong word.

3. Carlisle is hairy. Acapan does too.

4. Malaysia is a Multi-racial country. Please la.

The synopsis for the Malay version of Twilight--"Senja"
SENJA is an action-packed, modern-day love story between a pontianak and a human. Nabella (Fasha Sandha) has always been a little bit different, never caring about fitting in with the trendy girls at her Chuping high school (Chuping is the driest place in Malaysia).

When her mother remarries and sends Bella to live with her father in the rainy little town of Kuching, Sarawak, (Kuching was chosed because it's the wettest place in Malaysia--its not of me being a Sarawakian) she doesn't expect much of anything to change.






Then she meets the mysterious and dazzlingly beautiful Daud (Rosyam Noor), a boy unlike any she's ever met. Intelligent and witty, he sees straight into her soul. Soon, Nabella and Daud are swept up in a passionate and decidedly unorthodox romance. Daud can run faster than a Tyson Gay, he can stop a moving car with his bare hands — and he hasn't aged since 1957. Like all pontianak, he's immortal (
Dalam cita tok tek la--
real life
kita x tauk
).







But he doesn't have fangs, and he doesn't drink human blood; Daud and his family are unique among pontianak in their lifestyle choice. To Daud, Nabella is that thing he has waited 51 years for — a soul mate-- and a perfect gossip partner. But the closer they get, the more Daud must struggle to resist the primal pull of her scent, which could send him into an uncontrollable frenzy. But what will happen if the mortal vampire enemies, come to town, looking for her?




Some of the memorable quotes from the movie.

Edward Cullen: Are you afraid?
Isabella Swan: I'm only afraid of losing you.

Daud: Apakah adinda takut?
Nabella: Dinda hanya takut kehilangan kekanda.

------------------------------------------------------------------------------------

Isabella Swan: Will you tell me the truth?
Edward Cullen: No, probably not.
[Bella turns away slighly angry]
Edward Cullen: I'd rather hear your theories.
Isabella Swan: I have considered radiocative spiders and kryptonite.
Edward Cullen: All superhero stuff right? But what if I'm not the hero? What if I am the bad guy?
Isabella Swan: You're not.
[Edward smiles]

Nabella: Apakah kau kan berkata jujur kepada diri ini?
Daud: Tidak. Setidaknya pasti.
[Nabella berputar dalam kemarahan]
Daud: Diri ini lebih rela mendengar teori mu.
Nabella: Diriku mempertimbangkan labah-labah beradioakti dan
kryptonite

Daud: Semua barang superhero kanan? Apakah yang terjadi jika abang bukan hero? Apakah abang kan menjadi lelaki yang jahat?
Nabella: Tidak. Tidak.
[Daud tersengih]

------------------------------------------------------------------------------------

Edward Cullen: And so the lion fell in love with the lamb.
Isabella Swan: What a stupid lamb.
Edward Cullen: What a sick, masochistic lion.


Daud: Dan singa itu jatuh cinta dengan kambing.
Nabella: Kambing yang paloi.
Daud: Singa yang sakit, dan... apa
masochistic
dalam Bahasa Melayu sayang?

------------------------------------------------------------------------------------

Isabella Swan: [to Edward] How did you get over to me so fast?
Edward Cullen: [to Bella] I was standing right next to you, Bella.
Isabella Swan: No. You were next to your car, across the lot.
Edward Cullen: No, I wasn't.
Isabella Swan: Yes, you were.
Edward Cullen: Bella, you hit your head. I think you're confused.
Isabella Swan: I know what I saw.
Edward Cullen: And what exactly was that?
Isabella Swan: You stopped the van. You pushed it away with you hand.
Edward Cullen: Well, nobody's going to believe you.
Isabella Swan: I wasn't going to tell anybody. I just need to know the truth.
Edward Cullen: Can't you just thank me and get over it?
Isabella Swan: Thank you.
Edward Cullen: You're not going to let this go, are you?
Isabella Swan: No.
Edward Cullen: Well then I hope you enjoy disappointment.



Nabella: [kepada Daud] Bagaimana gerangan kekanda sampai begitu cepat dengan adinda?
Daud: [kepada Nabella] Dinda berdiri di kanan kekanda, sayang.
Nabella: Bulak. Kekanda dinda lihat berada di kereta kekanda, nun di seberang lot sana.
Daud: Tidak. Itu semua dusta belaka.
Nabella: Katakan ya sayang, YA!
Daud: Nabella, kau tumbuk kepala mu. Ku lihat dirimu sedikit bercelaru.

Nabella: Ku tahu apa yang ku gergajikan.
Daud: Dan apakah yang kau gergajikan itu?
Nabella: Kau berhentikan van itu. Kau tolak dengan tangan.
Daud: Baik. Tiada seorang pun makhluk bernama insan kan percaya kata-kata mu itu.
Nabella: Ku tidak bercadang untuk memberitahu sesiapa. Aku hanya perlu tahu kebenarannya di situ.
Daud: Tidak kah kau rasa kau patut berterima kasih pada ku dan lupakan segalanya?
Nabella: Terima kasih.
Daud: Kau tidak cuba untuk melupakannya?
Nabella: Tidak.
Daud: Ku harap kau menikmati saat-saat kekecewaan mu.
Nabella:...cibai.


Nota kaki: Kita seringkali memuja filem-filem barat. Saya percaya--jika penerbit filem tempatan menerbitkan filem sebegini rupa, nescaya orang kita kan mencaci--filem tahyul. Tak dapat diterima akal manusia bercinta dengan pontianak. Dan sekarang? (ayat dipengaruhi oleh blog Dean)


Assalamualaikum.
This entry was posted on October 4, 2009 at 12:14 pm, and is filed under
Parody
. Follow any responses to this post through
RSS
. You can
leave a response
, or trackback from your own site.